What Kinds of Trees Do We Sell?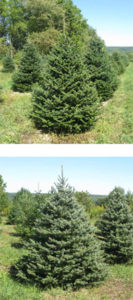 Choose from Fraser Fir and Blue Spruce.
We now accept credit cards
Our premium Fraser Fir feature soft, bright green needles with silvery undersides and a bottlebrush texture. These majestic trees boast sturdy branches and superior needle retention.
Blue Spruce have strong branches and good needle retention. Their superb form and color make beautiful Christmas trees.
Special Features
All of our trees are shaken to remove loose needles and baled (covered with netting that makes it easier to load and unload trees).
You choose and cut your own tree. We provide sleds and saws. For those unable to walk through the field, some pre-cut trees available
The pathway to our trees is neatly mown – no hiking required!
Buying a real Christmas tree at McClimans Family Christmas Tree Farm will quickly become a family tradition!
Why buy a real tree?
Support a local business instead of buying an artificial tree from China.
Real trees are green! Each year an acre of Douglas fir trees can absorb 11,000 lbs of carbon dioxide.
After Christmas a real tree can be recycled. Grind the tree into mulch spread the mulch around your plants and trees to prevent weeds from growing. It then decomposes, lending nutrients to the surrounding plants.